Abortifacients are substances that induce an abortion. The most common abortifacients used for medical abortions include Mifepristone, which is typically used together with Misoprostol, and Misoprostol used alone. There are also several herbal mixtures used as abortifacients, although there is no evidence that proves their efficacy in humans.
Abortifacients are substances that induce an abortion.

---
Pharmaceutical abortifacients
Similar to prostaglandin, as Misoprostol or Geme Prost (both similar to synthetic prostaglandin E1), they are often used to terminate a pregnancy during its first trimester. Sometimes they are used in conjuction with another abortifacient as Mifepristone (an antagonist of the progesterone receptor) or the Methotrexate (an antifolate).
Misoprostol inserted into the vagina is more efficient than when taken by mouth. However, the sublingual route is more effective than the vaginal route. Misoprostol alone is also used for self-induced abortion in some Latin American countries, where legal abortion is not available and also by some populations in the USA that can't afford a legal abortion.
In France, Misoprostol is marketed under the trade name Gymiso and is used together with the abortifacient Mifepristone. In the USA, Misoprostol is used off-label with Mifepristone to practice legal medical abortions.
The abortifacient Mifepristone is a progesterone receptor antagonist, also known as RU-486. It is marketed under the trade name Mifegyne in France and, in some other countries, like the USA, under the trade name Mifeprex.
The history of abortifacients
The ancient Greek colony of Cyrene had an economy almost entirely based on production and exportation of the Silphium plant, which was considered to be a powerful abortifacient. Silphium figured so prominently in the wealth of Cyrene that the plant appeared on coins minted there. The Silphium, that only came from this part of Libya, was so excessively cropped by the Greeks that ended up being driven to extinction. This standard theory, however, has been challenged by a whole range of alternative theories, ranging from extinction due to climatic factors to the hypothesis to attempt misinformation, since the recipe was made of an herbal compound and not merely with a single herb.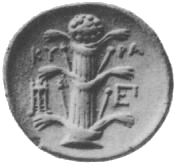 Ancient silver coin from Cyrene depicting a stalk of Silphium. (History Studies – 3)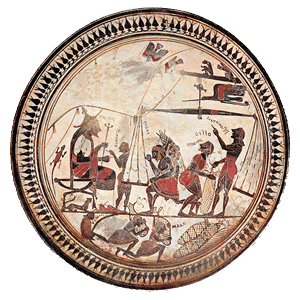 KYLIX: BIBLIOTHÈQUE NATIONALE / ARCHIVES CHARMET / BRIDGEMAN ART LIBRARY
Arcesilas II, king of Cyrene 560-550 aC, is shown watching the weighing and loading for export Silphium of VI century BC. From Greek kylix or a glass of drink.
In Aboriginal Australia, plants such as Madidum Cymbidium, Petalostigma Pubesces, Eucalyptus Gamofila were taken as abortifacients. But the process was also done through vaginal steaming with Erythropleum Chlorostachyum. With Christianity and particularly under the influence of the Catholic Church in the European society, those who dispensed abortifacient herbs found themselves classified as witches and were frequently persecuted. Medieval Muslim physicians documented extensive and detailed lists about birth control, including the use of abortifacients and discussed their effectiveness and prevalence. The use of abortifacients was acceptable to the Islamic jurists on the condition that the abortion occurred within 120 days, when it is considered that the fetus becomes fully human and receive its soul. In English law, the abortion did not become illegal until the year of 1803. Some of the abortifacients used by women in England during the 19th century (not necessarily safe or effective) included Diachylon, sarvin, ergot, pennyroyal, elm, nutmeg, rue, squills and Hiera Picra.